By Steve Gorten
By Steve Gorten, Ivette M. Yee
The perfect bite exists in every country. You only need to know where to find it.
And with so many places to explore around the globe, it's not just the ultimate bite you can search for, but the unique flavors, seasoning, and dishes for which certain corners of the world are known. Whether it's impeccable pasta in Italia or flawlessly fried green tomatoes in the Southern U.S., culinary tourism introduces travelers to tastes perfected through family recipes, culture, and tradition.
The appetite for culinary tourism continues to increase. According to Technavio, a market research company in the United Kingdom, the food-focused travel market — those who prioritize culinary experiences during trips — is predicted to increase by more than US$126 billion between 2022 and 2027.
And an exploration of eats makes for an enduring souvenir: new recipes to try at home, new foods to introduce to friends, and memories that leave a fond aftertaste.
Here Are Some Appetizing Culinary Travel Experiences in Six of the World's Best Food Cities:
New Orleans, Louisiana — Fireworks of Flavor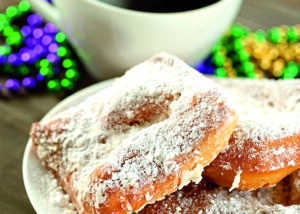 The Crescent City is distinctly seasoned by Cajun, Creole, and Southern soul-food cuisine, derived from an eclectic blend of French, Spanish, West African, Native American, and Caribbean influences.
Culinary Backstreets offers a comprehensive 5.5-hour walking food tour, starting with a praline-stuffed beignet at the famed French Market and ending with a fourth-generation sausage maker's iconic po'boy in the Tremé neighborhood, and stops at restaurants, food shops, and a grocery store in between. Destination Kitchen lets you sample the best of the Bayou with a three-hour tour, including six to seven food tastings at multiple eateries.
New Orleans School of Cooking and Mardi Gras School of Cooking, each situated in the French Quarter, offer hands-on culinary classes. During the three-hour session, you'll prepare and eat an authentic Louisiana meal — chicken and andouille gumbo, barbecue shrimp and grits, and bananas Foster crepes is one of the class menus of the former; corn and crab bisque, shrimp Creole, and pecan pralines can be found at the latter — with guidance from an expert chef. Both schools offer an immersive and delicious experience as well as a souvenir apron to take home.
Miami, Florida — The Mouthwatering Melting Pot of Tropical Flavors

This sun-soaked playground and culinary capital of Latin American and Caribbean fare truly tantalizes your taste buds. Flavors of Miami invites you to take a bite of Cuba's colorful culture with its four-hour "Traditional Cuban Cooking Class." A professional chef helps you create an appetizer, main course, and dessert. Menus include a sampling of staples such as empanadas, croquetas (deep-fried cheese- or meat-filled sticks covered in breadcrumbs), mariquitas (fried plantain chips), ropa vieja (savory seasoned shredded beef), arroz con frijoles (rice and beans), flan, timba (guava with cream cheese), and cafecito cubano, the signature jet-fuel-type espresso that is Miami's pick-me-up of choice.
Miami Culinary Tours offers three walking expeditions in South Beach, Wynwood, and the Design District that seamlessly fuse food and art, and a fourth in Little Havana that intertwines flavors and culture. Each tour lasts 2.5 hours and includes five to six food stops, with items such as bar tacos, ceviche, Asian-inspired tapas, sushi, churros, and gelato. Secret Food Tours will take you around Little Havana or South Beach for three-plus hours. The former location features fresh juice at a fruit market, a Cuban sandwich, and visits to a guayabera store and cigar factory. The latter includes Argentinian appetizers, Cuban pastelitos (pastries), and strolls down iconic streets Lincoln Road and Española Way.
Paris France — Food for Lovers
Alluring to romantics, the City of Love is also a divine destination for passionate food lovers. La Cuisine Paris caters to ultimate foodies with two combo experiences: the Marais Tour and Cooking Class (evenings) and the French Market Tour and Cooking Class (mornings/afternoons). The Marais Tour guides you through the Quartier Saint-Paul neighborhood in the historic Le Marais district, where you'll buy ingredients at local shops to pair with the classic French main dish magret de canard (duck breast). Each French Market menu is conceived at the market with the help of your chef. Both experiences last four hours, with enthralling cooking classes featuring four courses.
Cozymeal and GetYourGuide offer an array of food tours. Cozymeal's seven-stop, 3.5-hour Montmartre tour includes delectable treats like chocolates and macarons, crepes, classic French bread, tasty fromages (cheeses), savory cured sausages and hams, "a secret dish," and wine. GetYourGuide's tour of underrated neighborhood Belleville shows you how authentic baguettes and croissants are made and also stops at a chocolate maker.
Florence and Tuscany, Italy — Rustic and Rich
Where do you find phenomenal pasta upon returning from a trip to Tuscany? In your own kitchen, ideally. That's the aspiration after taking Eating Europe's authentic four-hour Florence pasta-making class, "a hands-on cooking experience set in a local chef's beautiful home with unlimited wine." Shop for ingredients at family-run markets in the Oltrarno neighborhood, and then prepare fettuccine and ravioli from scratch, along with tiramisu or another typical local dessert.
Or venture out of Firenze to a farmhouse in the rolling hills of Volterra, where Diacceroni Experiences offers multiple three-hour cooking classes focused on "typical dishes of the Tuscan tradition." You'll discover secrets behind crafting regional specialties, including gnocchi, pizza, Tuscan soup, stewed wild boar, and more.
Based in the village of La Rosa, Arianna & Friends promises guests "the most authentic tours in Tuscany." You can take olive oil– and wine-tasting tours, go truffle hunting, or visit a pasta factory or cheese farm.
Bali, Indonesia — Eat, Cook, Love
Balinese culture is largely tied to food — it's one way to show deities gratitude, respect, and devotion — so meals are an easy entry to understanding the people and history of this Indonesian island.
Paon Bali's cooking classes, held in a kitchen/garden at a traditional family home in Laplapan Village near Ubud, invite you to "learn the secrets of authentic Balinese cooking" influenced by Chinese, Indian, Middle Eastern, and Indigenous flavors and usually featuring chile, garlic, shallots, and coconut oil. The cooking classes include a visit to a rice plantation to see how the staple of Balinese dishes is cultivated.
The Casa Luna Cooking School, based in Ubud, offers market tours with tastings and cooking classes, including a smoked duck session on Sundays, as well as a beginner's course on Fridays that features chicken satay and nasi goreng, a traditional rice dish made from shrimp and vegetables that's topped with shredded omelet or a fried egg.
Savannah, Georgia, and Charleston, South Carolina — A Taste of the South

Shrimp and grits and fried green tomatoes can be hit or miss wherever you go, but take a food tour in Savannah and be prepared for delicious bull's-eye accuracy. Check out Savannah Culinary and Culture Tours, a three-hour Southern food and history walking excursion that includes stops at local favorites serving up the flavors of the South, including hearty she-crab soup, savory biscuit sandwiches stuffed with fried green tomatoes, and the above-mentioned shellfish favorite. These tasty treats add up to a satisfying meal, made even better by strolls that take you between Savannah's famous squares.
Consume all of Charleston's renowned food culture via Undiscovered Charleston's half-day Walking and Tasting Tour hosted by renowned local chef Forrest Parker. It was named the world's No. 1 food experience by Tripadvisor® in 2021 as a Travelers' ChoiceTM award winner. The outing consists of a historical walking tour, live cooking demonstration, and lunch with wine (or sweet tea). According to Southern Living magazine, gazpacho and shrimp and grits were the tour's tastiest dishes.
Cancún, Mexico — Take Taco Tuesday Up a Notch

Your experience can be a story for the ages if you go for an authentic tacos and Mexican beers (or tequila) tour in Cancún. Imagine warm corn tortillas made by an abuela and filled with succulent suadero, the tender cut of beef between the belly and the leg, or cochinita pibil (roasted pork marinated with annatto and sour orange, created and perfected in the Yucatán). These handhelds are topped with leafy greens or onions and fresh house-made sauces (mild and spicy) — just as the locals would have them.
Cancún Food Tours offers a 4-in-1 taco tour to four taquerías that will serve you the real deal with Mexican beer. Then there's a stop at the local night market for a whole new world of people-watching and dessert: freshly fried churros sprinkled with sugar.