Get Back to Nature
With long stretches of wild coastline, soaring skies, and expansive salt marshes waiting to be discovered, Norfolk is very much a British seaside haven for outdoorsy folk. This is a place where you'll want to bring along your best outdoor apparel so you can get out and explore, whatever the weather.
Inhale the cool, sea-salty air on a stroll along a sandy stretch of beach and feel that sense of freedom and clarity of mind that arises when looking out to distant ocean horizons: a tonic for the mind and soul. In between walks — and maybe even a crisp refreshing dip in the ocean (if you want to brave the chilly water) — explore inland Norfolk, home to quaint villages and towns.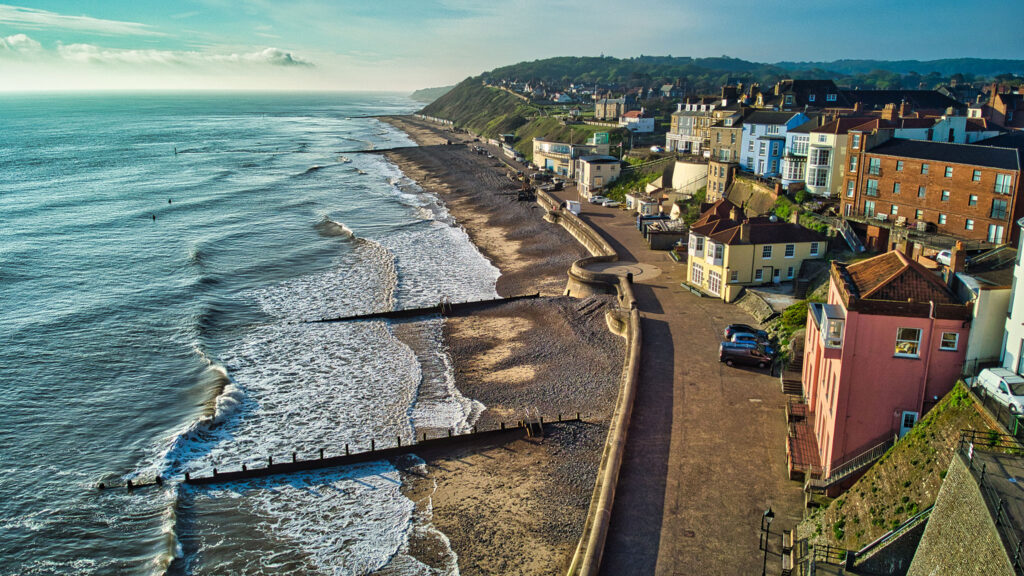 Cromer is one of the most popular seaside towns and is well worth a visit. Even Banksy left his mark with some of his signature Spraycation graffiti art on one of the sea walls. And at the end of the traditional Victorian pier sits the Pavilion Theatre, where variety shows take place during the summer months.
Must-Do: Seaside jaunts at Wells-next-the-Sea are top of the list when visiting Norfolk. Pass pinewoods and multi-colored beach huts that trace the sandy coastline, and explore the scenic salt marshes along the Norfolk Coast Path. And don't bypass the actual town of Wells, where you'll find quaint streets lined with cozy tearooms, independent shops, and eye-catching Victorian homes.
Eat: On a cool morning, there's nothing more soul nourishing than wrapping your hands around a warming cup of coffee. Pull up a chair at Huckleberries in Cromer, an independent coffee shop that whips up all their cakes and savories in house — and has vegan options available. Be sure to complete your seaside sojourn with locally sourced fish and chips at No1 Cromer, followed by a takeaway scoop of salted peanut butter ice cream at Ice Cromer, best enjoyed by the beach (weather permitting).
Day-Trip: Watch for the colony of grey seals on an exciting boat trip to Blakeney National Nature Reserve. Excursions are available locally. The inquisitive seals may even venture up close to the boat. As well as admiring the lovable sea mammals, keep an eye out for migrating birds as they soar overhead


.