This five-day itinerary will get you started:
One day you're hanging 10 at Praia Mole's popular surf break and the next you're sitting in the courtyard of a Fachwerk-style building, wearing a green felt Bavarian hat, and saying "prost!" while raising a stein of hefeweizen. That alluring juxtaposition sums up a trip to Santa Catarina, a southern state in Brazil where wide-ranging activities and attractions (all in close proximity to countless lovely beaches) are the norm.
Sure, Brazil's most famous vacation stalwarts — Rio de Janeiro and São Paulo, a few hundred miles to the north — still have more name recognition, but savvy travelers from around the world have discovered that Santa Catarina might actually have more to offer.
For proof, take a look at the five-day itinerary below. Whether you're staying in Blumenau or Santo Amaro da Imperatriz, this schedule will keep you active and ensure that you experience many of Santa Catarina's diverse hotspots.
Day 1: The Metropolitan Flavor of Florianópolis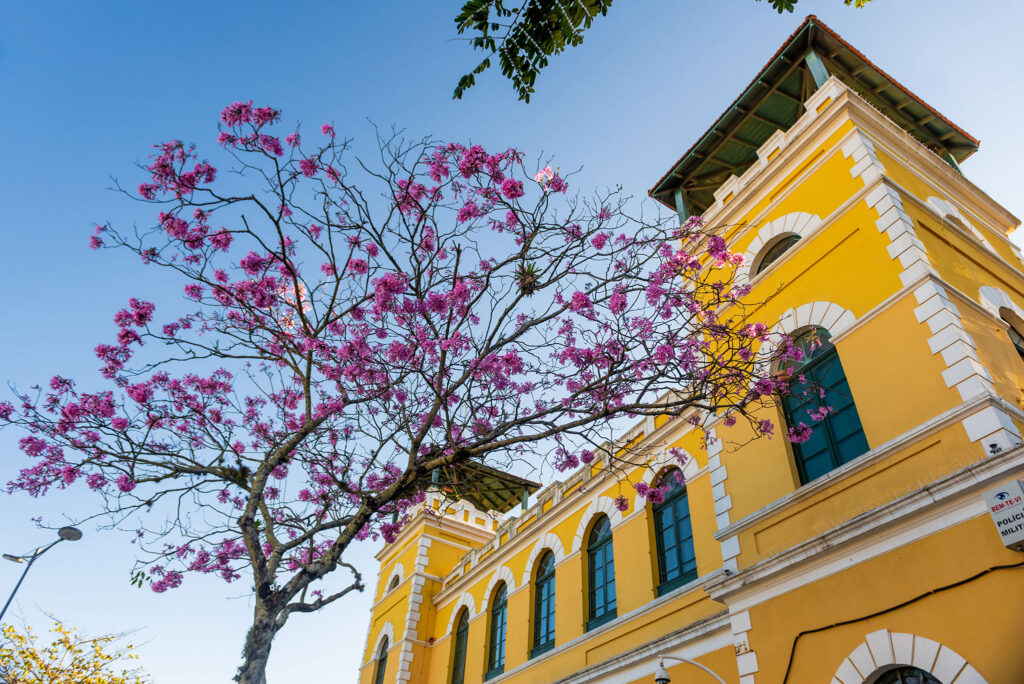 The city limits of Florianópolis, the region's capital, stretch from the mainland across a couple bridges to the western edge of the state's namesake island, Ilha de Santa Catarina. While there's a lot to see and do around the entire atoll, stick to Florianópolis' urban charms today — and specifically the historic center on the island side. Within just a few blocks, you can see the Catedral Metropolitana, visit the Museu Histórico de Santa Catarina, and do some serious shopping — for souvenirs, fresh food, handicrafts, and more — at the Mercado Público.
The food court at the Mercado Público has a bunch of great food options, too, many authentic, but if you're in the mood for something fancier, make a reservation at Restaurante Pier 54, where local history and water views complement the delicious seafood menu.
Day 2: Beach Bound
No matter how many distinct and (very) worthwhile attractions Santa Catarina has to offer, the real prize down here is the golden oceanside sand. And there's plenty to go around. Ilha de Santa Catarina alone has approximately 40 beaches, and dozens more can be found along the state's 348-mile-long coast.
Don't miss Praia do Campeche on the southeast side of Ilha de Santa Catarina with its 2 miles of sand and surf perfect for water sports or secluded sunbathing. You'll find it all here. Nearby Joaquina is one of the island's most popular strands, so it's an ideal spot for folks who enjoy being part of the cool crowd.
A bit north of Florianópolis, at the end of a small spit of land, Bombas and Bombinhas beaches are about as postcard perfect as it gets: calm blue water backed by green hillsides dotted with coastal cottages.
Day 3: Blumenau's Fine German Engineering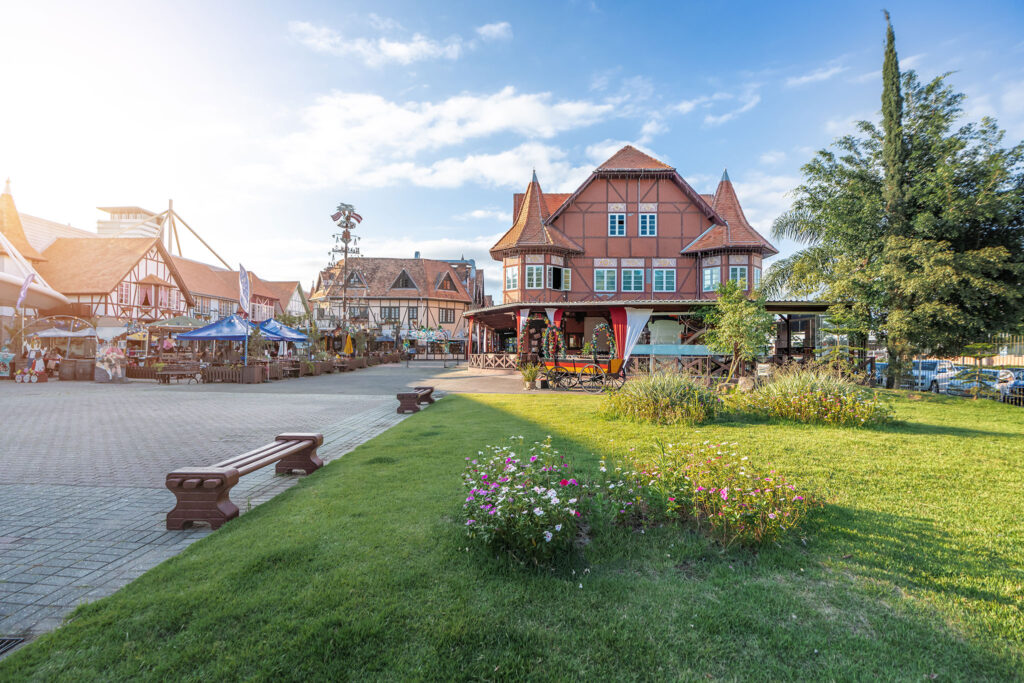 Driving into Blumenau feels like being transported to another world — or, at least, a different country. The community's deep German roots are immediately obvious in the architecture and delectably confirmed with the quality — and quantity — of beer. Satisfy your historical curiosity at the Museu da Família Colonial before switching gears to sampling pints. Start with local breweries such as Das Bier Cervejaria, Eisenbahn BierHaus, and Wunder Bier.
When it's time to supplement the ale with a meal, rest assured that Blumenau is cosmopolitan enough for you to find food to satisfy any craving, from Mexican (Rosa Mexicano) to Japanese (Brava Sushi). But why not carry the provincial theme on to dinner? In that case, Alemão Batata Choperia and Senac Blumengarten are great choices.
Finally, do some shopping (and more pint sampling) at Parque Vila Germânica. And if you have time to explore further, check out two other nearby "German" towns: Pomerode and Timbó.
Day 4: Playtime With Mother Nature
Local outfitters are probably the best way to experience some of the coolest outdoor adventures around Santa Catarina. You know, a day of trekking up the side of a mountain or whitewater rafting. Even sandboarding (picture snowboarding on a monstrous sand dune).
For more solitude, consider spending a day hiking around either Serra do Tabuleiro State Park or São Joaquim National Park. Both provide vast unspoiled wilderness areas, where you can discover various natural features, including lush rain forests, craggy rock outcroppings, grassy meadows, refreshing waterfalls, and more.
Day 5: Thrills and Chills at Beto Carrero World
Even the most veteran theme park aficionados will be dazzled by Beto Carrero World. More than 100 attractions, various restaurants, multiple live shows, and a zoo are spread out across nearly 3,500 acres. That all adds up to Beto Carrero World being Latin America's biggest amusement park — not to mention a full day of fun for the entire family.
Be sure to study the map so you don't miss any of the best rides or entertainment, from the thrilling FireWhip and Star Mountain roller coasters to the Hot Wheels Epic Show and the Madagascar Crazy River Adventure! — and much, much more.
More information about regional resorts.