You'll find so much to do in Music City with this four-day itinerary that hits all the right notes!
By JB Bissell
Nashville is not the kind of place where lazy afternoons spent with the latest bestselling mystery novel slip into leisurely sunset strolls and quiet dinners before a good night's rest. No, Nashville is wall-to-wall revelry, where you can spend upward of 17 hours straight watching dozens of live music acts at the tens of famous honky-tonks that line Lower Broadway, a major thoroughfare in the city's downtown.
This is not an exaggeration. The last time I was there, we sauntered into Robert's Western World around 10:30 a.m. because a local act was doing a solid rendition of Waylon Jennings' "Theme from The Dukes of Hazzard (Good Ol' Boys)." Next thing I knew, we were buying a last-call round of beers at Tootsies Orchid Lounge for a band that was covering "Something in the Orange" by Zach Bryan — and it was approaching 3 o'clock in the morning.
My point is twofold. First of all, Nashville is a lot of fun, and you don't have to look hard to find a really good time. But … there are a lot of very worthwhile things to see and do here (that don't involve all the hootin' and hollerin'), so it's best to put together at least a tentative itinerary to ensure you visit the top attractions and mix up your activities a bit. Otherwise, the next thing you know, you'll be closing down your new favorite honky-tonk without having seen the Ryman or sampling the city's best hot chicken sandwiches.
Here's a loose four-day schedule to get you started.
Day 1: Country Music Heritage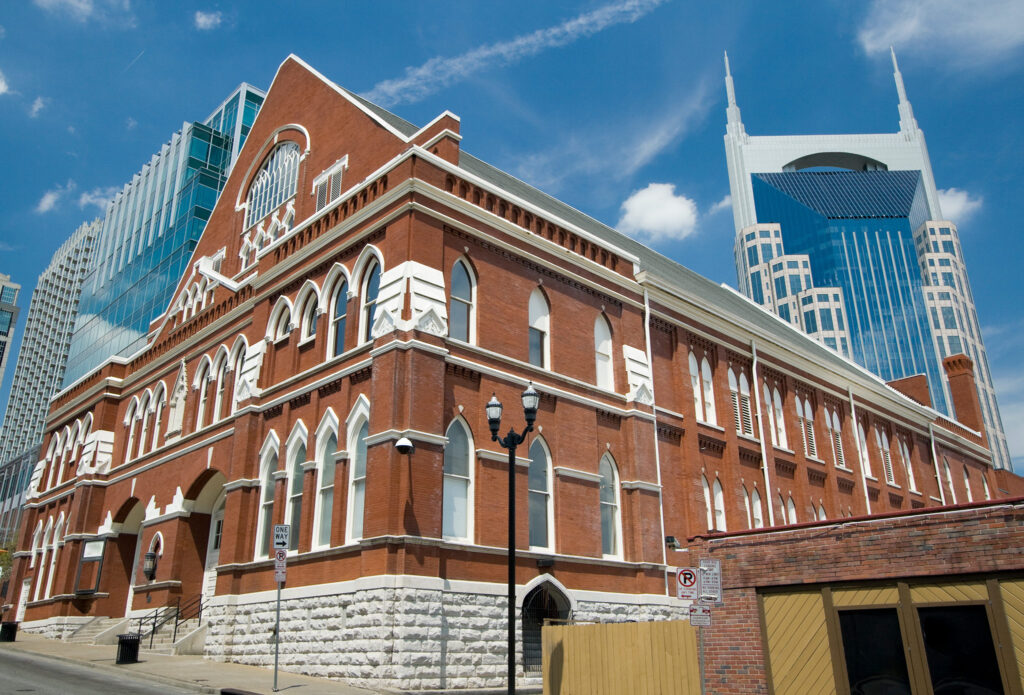 Morning
You've got a lot of sightseeing to do today, so fuel up with breakfast at Biscuit Love in the hip Gulch neighborhood. Order The B-Roll — a biscuit-cinnamon-sticky-bun hybrid that is exactly as decadent as it sounds — to share and an East Nasty — the signature biscuit and gravy breakfast complemented with a fried chicken thigh and cheddar cheese — for yourself.
Less than a mile away (and walkable to burn off the hometown meal you ate), the Country Music Hall of Fame and Museum should be your next stop. Permanent displays, such as Sing Me Back Home: Folk Roots to the Present, tell country music's full story with photographs, stage outfits, audio recordings, interactive media, and more. Rotating exhibits focus on specific artists, time periods, locations, and other segments of the genre. You can even see Historic RCA Studio B (upgraded admission ticket required), where Dolly Parton recorded her tear-jerking rendition of "I Will Always Love You."
Afternoon and Evening
The Ryman Auditorium and Grand Ole Opry are two more requisite Nashville attractions. Both offer interactive tours during which you might find yourself onstage or backstage. For groups of four to six aspiring entertainers, the Ryman VIP Tour includes a stop in the Air Castle Studio to record a song.
Just entering the Ryman and Opry can be a spiritual experience for many fans. Ideally, though, you'll catch an actual show one night while you're in town. Both venues maintain a busy schedule of live entertainment, so check the calendar before you go, score some tickets, and plan your itinerary accordingly.
Other cultural sites to consider today include the Johnny Cash Museum and National Museum of African American Music.
Scroll to the top and click Day 2.
Day 2: Tennessee Whiskey Day-Trip
Morning
More than 25 years before the Ryman Auditorium opened, a gentleman by the name of Jasper Daniel tapped a barrel of Old No. 7 whiskey down in Lynchburg, Tennessee — about 72 miles south of Nashville. And whether you enjoy the brown spirit or not, a visit to the Jack Daniel Distillery should make your regional must-do list. The guided tours are a fascinating mix of local history, behind-the-scenes peeks at Jack's unique distilling process, and pure entertainment (our guide had as many hot-take jokes as he did informational anecdotes).
Excursions are available with or without samples at the end and generally start daily at 9 a.m. The Jack Daniel's campus is set against a picturesque Tennessee hillside, so the earlier the better to enjoy the serene setting before the majority of visitors arrive.
Afternoon
Head over to Lynchburg's main town square. The four streets surrounding the old courthouse are lined with a few down-home restaurants and various souvenir stores. Admittedly, some are rather kitschy, but if you're looking for local gifts to take to friends and family back home, this small-town center is the place to find them. Be sure to check out the Lynchburg Hardware & General Store — it serves as the official Jack Daniel's gift shop (there isn't one at the actual distillery) — and Prince's Parlor, where you can get a double scoop of Jack Daniel's–infused ice cream.
Evening
On your way back to the city, stop at the south location of Prince's Hot Chicken Shack. Yes, there are plenty of other trendy places to get Nashville hot chicken, but Prince's is the original, and still my favorite. There's usually a line at the counter, and this is not a touristy part of town, so study the menu before you order — the half chicken with a side of coleslaw and potato salad is a good place to start — and don't overestimate your zeal (and tolerance) for the heat when selecting the flavor.
Scroll to the top and click Day 3.
Day 3: Out and About Beyond Broadway
Morning
Start your day with a kolache — a doughy delight stuffed with either a sweet filling or meat (the sausage jalapeño is a personal fave) — from Yeast Nashville in the vibrant and artsy East Nashville neighborhood. Take your pastry to go and enjoy it while scouting all the various eateries, shops, and taprooms along and around Main Street. Eventually, work your way to Grimey's record shop to pick up some old vinyl by the same folks whose legends fill the walls of the Country Music Hall of Fame and Museum.
Afternoon
Continue your shopping spree in the 12South neighborhood, a moniker that references a compact segment of 12th Avenue South, where you can purchase a new pair of boots at Planet Cowboy, find a perfect pair of blue jeans at Imogene + Willie, and accessorize at the Bullets & Pearls jewelry boutique.
Evening
Aside from being housed in a 1905 residence, Monell's isn't exactly a historic Nashville eatery. But it is an institution. The original Monell's in Germantown — your destination for dinner this evening — opened in 1995 and has been serving family-style Southern fare ever since. No reservations are accepted, the daily menu is set (pot roast on Tuesday, pork chops Wednesday, and so on), and you'll almost certainly dine with "new friends" at a large community table. Oh, and the mouthwatering fried chicken is an automatic side dish with every dinner, no matter what the meat of the day is. In other words, settle in for a real Southern feast.
Scroll to the top and click Day 4.
Day 4: Go Honky-Tonkin'
Morning, Afternoon, and Evening (and Late Night!)
It's time to go honky-tonkin'! And since you've already completed your sightseeing, sampled the city's best foods, and shopped for souvenirs, you're free to enjoy some 17 hours of uninterrupted musical merrymaking. There's no real "system" for experiencing the honky-tonks. Just start on Lower Broadway and when you see or hear something that piques your interest, mosey on inside.
Nudie's Honky Tonk and the aforementioned Tootsies are two of my favorite older locations. The Stage on Broadway and Bootleggers Inn are a little more intimate and (usually) laid-back. And, of course, there are several big celebrity-fronted venues, too. Check out Miranda Lambert's Casa Rosa and Dierks Bentley's Whiskey Row.
Wherever you wind up, keep a few things in mind: None of these places charges a cover to enter, but the performers do appreciate tips. Show your gratitude — and request a song — by throwing some cash in their jar. A lot of the honky-tonks serve food, so you can eat without leaving the music behind — but it's best to find an uncrowded spot (check the second and third levels at most establishments) where you can order in relative peace. And if you're visiting with kids, start your day early. Many establishments allow all ages during daylight hours, but transition to 21 and over when the sun goes down.
Whether you hang out at a dozen honky-tonks or devote your time to just a couple, make the most of this Music City night. You can always get back to that mystery novel on your trip home.
Take advantage of special Getaway offers — or find deals on hotels through Interval Travel anytime — to make your own Music City memories.