Explore the Pearl of the Pacific on Foot
By Emily Schlorf
One of the best ways to quiet the mind, get some steps in, and get to know a new city is by exploring wherever your two feet lead you.
Plus, the older the city, chances are the better its walkability. This rings true for Mazatlán, a gem located on Mexico's west coast. While the city's founding date is debatable — Spaniards claimed it in 1531, but permanent settlement didn't happen until the 1820s — its urban design lends itself quite nicely to travelers who wish to put their best foot forward, and it has many wheelchair-accessible areas, too. Read on to envision your future Mazatlán strolls.
Mazatlán's Greatest Hits
Walk the Centro Histórico streets dotted with bright buildings and iconic sites. These are the high points not to be missed during your trip to Mazatlán.
Mercado Pino Suárez (Pino Suárez Market)
Start the day ambling through busy market aisles. Open since 1900, this hub is a microcosm of the Mazatlán community, from seasoned vendors to travelers looking for an authentic experience. Go souvenir shopping, pick up some sliced mango to include your taste buds in all the fun, or enjoy your choice of torta (grilled sandwich roll) from the various restaurants on the second floor.
Catedral Basílica de la Inmaculada Concepción (Cathedral Basilica of the Immaculate Conception)
With its canary-yellow towers and lavish Italian marble, this Baroque-Revival beauty soars over the city in elegant proportion. Check out the stained-glass windows to find some seemingly out-of-place Star of Davids, which were believed to be added as a thank-you to the Jewish community for helping fund the cathedral's construction. The outside is beautiful enough to justify the stop, but step inside to be wowed by extravagance.
Plazuela República (Republic Square)
Cross the street (21 de Marzo) to find the Plazuela República (also known as the Plaza Revolución), constructed in 1870. Go for a stroll, snap a photo in the red gazebo, devour a raspado (Mexican snow cone), and take in the sights.
Teatro Ángela Peralta (Angela Peralta Theater)
Named after a beloved singer who died of yellow fever just days before her Mazatlán debut, the 800-seat theater is one of the city's most cherished treasures. Since opening in 1874, it has hosted all kinds of entertainment, from vaudeville acts to boxing matches. Tour the theater for a high-brow afternoon away from the heat.
Pedro y Lola and Plaza Machado
Walk down half a block to Pedro y Lola for lunch or dinner. Located in the historic Juárez building, the establishment once housed shops, offices, and social meetings. Today, it hosts happy guests looking to whet their appetite with Mazatlán's specialty of shrimp, cooked a variety of ways. Savor your meal in the bohemian atmosphere of Plaza Machado, with its 19th- and early 20th-century French- and Spanish-style architecture, live music, and infectious energy.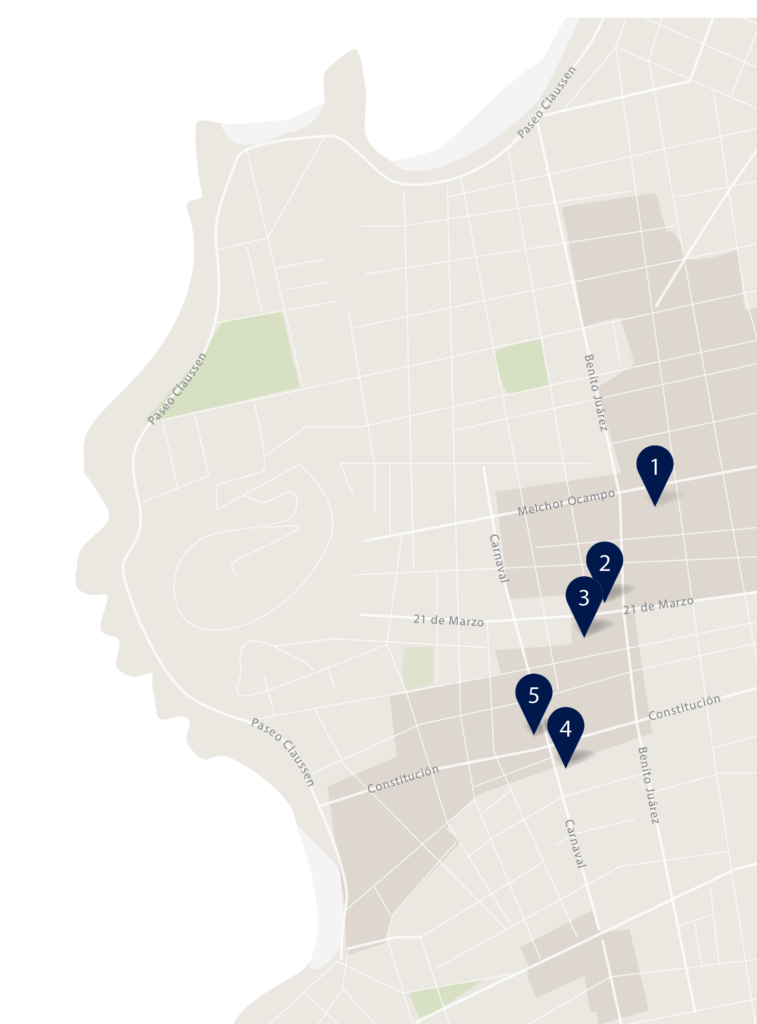 Go for the Golden Zone
Explore one of the longest malecones (boardwalks) in the world, the Malecón de Mazatlán. On this trek, embrace beach vibes, sample seafood delicacies, and end the journey with a refreshing drink coupled with postcard-worthy views.
Playa los Pinos (Los Pinos Beach)
Enjoy the family-friendly ambiance and sample freshly caught sea treasures. Try fish-on-a-stick, oysters, or shrimp ceviche. The casual stands are located right on the beach, so order up and dress your mariscos (seafood) with some lime and hot sauce as the ocean waves ebb and flow just steps away.

El Clavadista (The Diver)
You'll know you made it to stop No. 2 when you see the white rail atop a rocky 50-foot-tall platform. It may not look like much from afar, but when you witness the expert clavadistas plunge into the Pacific, you'll almost certainly feel shivers down your spine. Be sure to tip the divers some pesos for their intrepid endeavors.

Carpa Olivera "Alberca de Mar" (Sea Pool)
This recently renovated sea pool is an ideal place to take a breather and cool off from the afternoon heat. If the pool is closed (as it is on occasion due to bad weather or repairs), taking in the visages of the shimmering waters is worthwhile, too.

Best Western Posada Freeman
Afterward, head back toward the malecón and enter the butterscotch-hued Best Western Posada Freeman. Here, you can make your way up to the roof and end your beachside journey the only way fit, by watching the sun melt into the Pacific while sipping a cocktail. And this isn't any rooftop bar — the upbeat hotel that houses it was the first high-rise built in northwest Mexico back in 1944.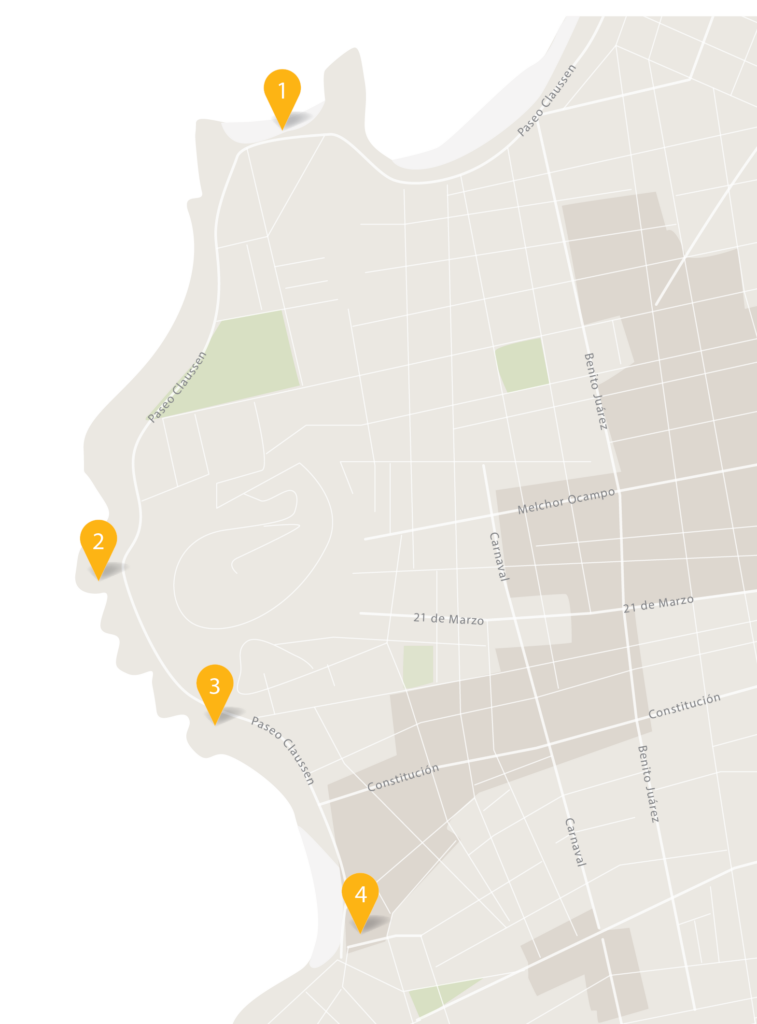 Guided Affairs
Let someone else lead the way on the following guided Tours & Activities available through Interval Travel®.
Private Van and Bilingual Local Driver
Interested in bits and pieces of our suggested itineraries? Want to leave the navigating to a local expert? Whatever the case may be, for just over US$300, you can enjoy the convenience and knowledge of a private driver who can take you wherever your heart desires in Mazatlán. A comfortable, air-conditioned van will be your gateway to this fabulous city while you sit back, enjoy fascinating anecdotes, and select your next stop.
Barrio Bites
Treat your taste buds to some of Mazatlán's finest eats, from food stands to hole-in-the-wall eateries. For about US$70, a knowledgeable local guide leads travelers on a culinary journey off the beaten, tourist-clad path for an unforgettable gastronomic fiesta.
Mercado Walking Food Tour
Get an in-depth tour of the famous market, complete with sampling delicacies (smoked marlin and tostadas to name a few), meeting vendors, and socializing with other foodies. Tickets are just over US$65 and include all the delicious food and drinks as well as insights from a passionate guide.
Whether you join a group or forge your own path, there's nothing like embracing curiosity and discovering what new experiences the next block could hold.
Explore more guided Tours & Activities available through Interval Travel.