By Emily Schlorf
By JB Bissell, Sophie Cole, Steve Gorten, Emily Schlorf
Mention a road trip and most people start thinking about sweet guilty-pleasure snacks, classic mixtapes, and perhaps a few of their favorite references to the greatest road tripper of all time, Clark W. Griswold. And while we also often associate road trips with traveling to and from your destination, sometimes taking an extended mid-vacation car ride is an ideal way to notch varied experiences and visit diverse sights from a single location.
To that end, here's a collection of road trips near Interval member resorts around the world. Perhaps you set out to see only a couple of the listed highlights or maybe you settle in for the long haul. Either way, it's a good excuse to stock up on monster cookies and listen to a killer playlist while you're checking out some new territory.
Classic California Along the Pacific Coast Highway
The conversation about ranking the best section of the famed Pacific Coast Highway, known affectionately as the PCH, is both lively and utterly subjective. But if you enjoy endless ocean vistas, seafood shacks, and unique sightseeing attractions, the stretch between San Francisco and north of San Diego is tough to beat.
Heading south from San Francisco on State Route 1, your first scenic stop should be Devil's Slide Trail in Pacifica. It's a 1.3-mile (2 kilometers) paved trail that provides fresh air and various overlooks of the quintessential rugged Northern California coastline. Farther on, the Monterey Bay Aquarium — home to exhibits that range from fun-loving sea otters to a glimpse at the ocean's unfathomable depths — is a must for marine lovers.
You'll have to head a bit inland at San Simeon to see the Hearst Castle compound, but no trip along this stretch of the PCH is complete without witnessing the opulent estate, which includes various structures, such as the 68,500-square-foot (6364 square meters), 38-bedroom Casa Grande and 345,000-gallon (1,305,968 liters) outdoor Neptune Pool.
Before reaching what's generally considered Southern California, stop in the town of Pismo Beach. With long stretches of uncrowded sand, funky shops, and the more than 1,200-foot-long (366 meters) Pismo Pier, it'd be easy to spend a day here relishing the old-school oceanside atmosphere.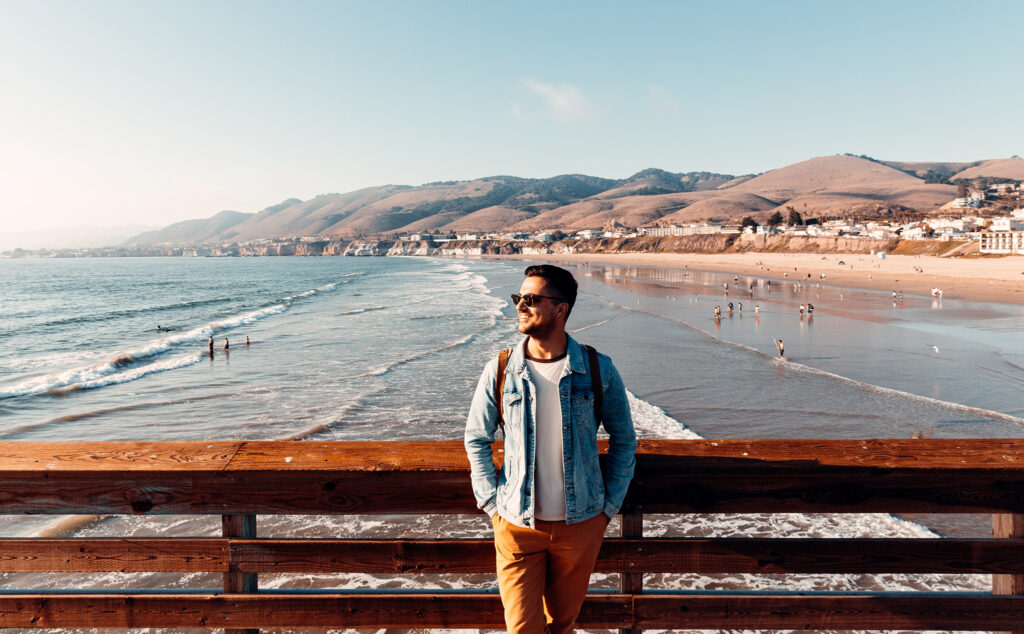 The casual façade at Neptune's Net might seem a touch out of place for Malibu, but this restaurant is a true locals' hotspot. Order your favorite dish (fish and chips, a shrimp basket, ahi tuna, clam strips, and so on) and grab a table that looks over the PCH directly to the Pacific Ocean.
As you enter the Los Angeles metropolitan area, the sights get more concentrated. Consider wandering along Venice Beach, touring the historic Queen Mary, and strolling the Huntington Beach Pier before the PCH runs into Interstate 5 (which continues to San Diego) near Dana Point.
The Wineries, Hot Springs, and Rockies of Eastern British Columbia
Eastern British Columbia encapsulates poet and philosopher Ralph Waldo Emerson's suggestion to "lose yourself in nature and find peace," and the Interval resorts in the region are perfectly situated for a leisurely drive to famed Banff National Park in the adjacent province of Alberta.
The world's third oldest national park (established in 1885), Banff draws more than 4 million visitors a year to its majestic mountains, brilliantly blue lakes (notably Moraine Lake and Lake Louise, about 20 minutes apart), and other jaw-dropping sights.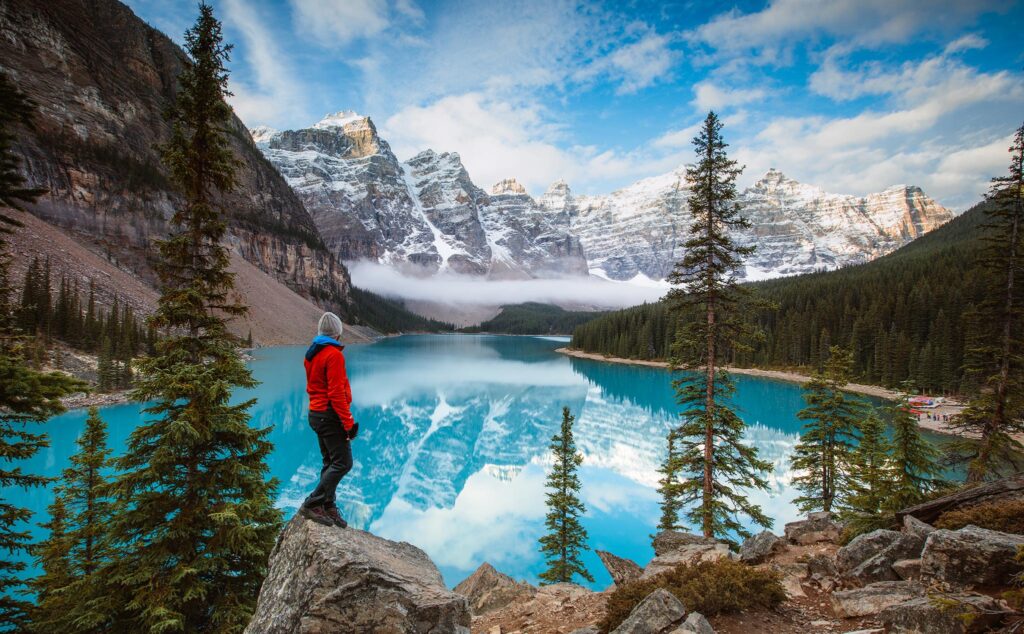 View the vast wilderness on a Banff Gondola ride, an eight-minute journey soaring 2,292 feet (698 meters) to the summit of Sulphur Mountain, for a stunning bird's-eye view of six Canadian Rockies' mountain ranges. Endless outdoor adventures in Banff include paddling and rafting, horseback riding, and climbing, caving, and canyoning. In the winter, there's skiing and other cold-weather sports.
Within the national park, explore the town of Banff, which features Whyte Museum of the Canadian Rockies, artisan shops on Bear Street with crafts and souvenirs, and excellent restaurants such as Eden. There's also the smaller and quieter Lake Louise Village.
Back in British Columbia, when you're not enjoying a steamy soak in Radium Hot Springs and Fairmont Hot Springs, venture out for a relaxing drive to Creston. You'll find three highly regarded wineries: Red Bird Estate Winery, Skimmerhorn Winery and Vineyard, and Wynnwood Cellars Estate Winery.
Another worthwhile trip is to Pommier Ranch Meadery in East Kootenay. The family-owned and -operated meadery, on a ranch established in 1927, began producing mountain wildflower honey nearly a decade ago and uses it to create homemade mead. An appointment is necessary for tours and tastings.
Fall Leaves (and More) in the Northeast
No matter how far you want to drive to see the spectacular colors, be sure to sprinkle in some picturesque pit stops to take advantage of the season's pleasant temperatures and ephemeral washes of rich ambers, maroons, and golds. Here are two great routes.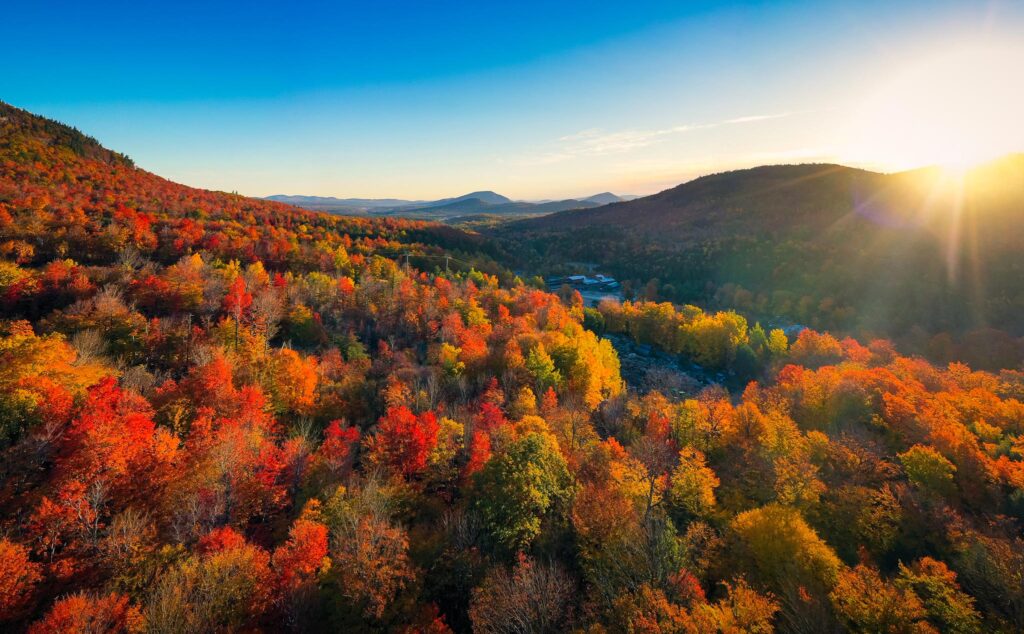 Ivy-covered stone towers and wide conical roofs are the stuff of fairy tales. And surprisingly, Milford, Pennsylvania, too. An aesthetically pleasing excuse to stretch your legs for a bit, Grey Towers National Historic Site was once home to Pennsylvanian governor and conservation champion, Gifford Pinchot. Explore the château's grandiose views, both inside and out.
For impressive natural panoramas you've probably already seen in a car commercial, head to the Pennsylvania/New York border to the Hawk's Nest Lookout, a serpentine road hugged by auburn and golden hills that overlook the Delaware River. It could be the setting of your family's next holiday-card photo.
Looking for some Zen near the Catskills? You don't need to book a trip to the Himalayas to find it. Located in Woodstock, New York, lies Karma Triyana Dharmachakra, an authentic Tibetan Buddhist monastery. With its colorfully ornate interior and the gentle sounds of singing bowls rung throughout the grounds, this tranquil center provides an opportunity to look within oneself and to observe the rich Buddhist tradition. (Open every day, with free tours offered on weekends.)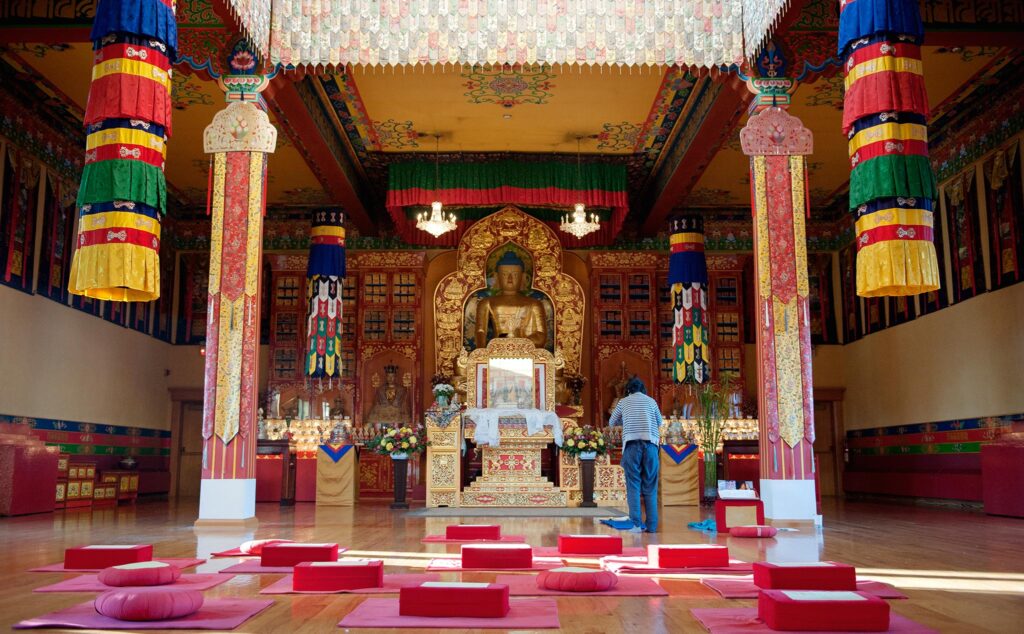 To walk through history, visit New York's first capital: Kingston. Grab a window seat and a contemporary novel at Rough Draft Bar & Books to witness some chronological juxtaposition: here lies the country's only intersection with all four corners built prior to the Revolutionary War. Afterward, treat yourself to a meal made by a James Beard–nominated chef at Top Taste, a green and yellow–painted hole in the wall where homecooked Jamaican flavors delightfully permeate the centuries-old streets.
Shore to Shore: Atlantic City to Myrtle Beach
For a road trip down the coast from Atlantic City, try one of two itineraries: About two and a half hours west of America's Playground, passing through Wilmington, Delaware, you'll arrive in Baltimore. Feast on mussels, shrimp, and other seafood offerings from Chesapeake Bay at spots like Bertha's. Cruise around the city's Inner Harbor on a water taxi, see sharks at the National Aquarium, and check out the pagoda-style observatory at Patterson Park.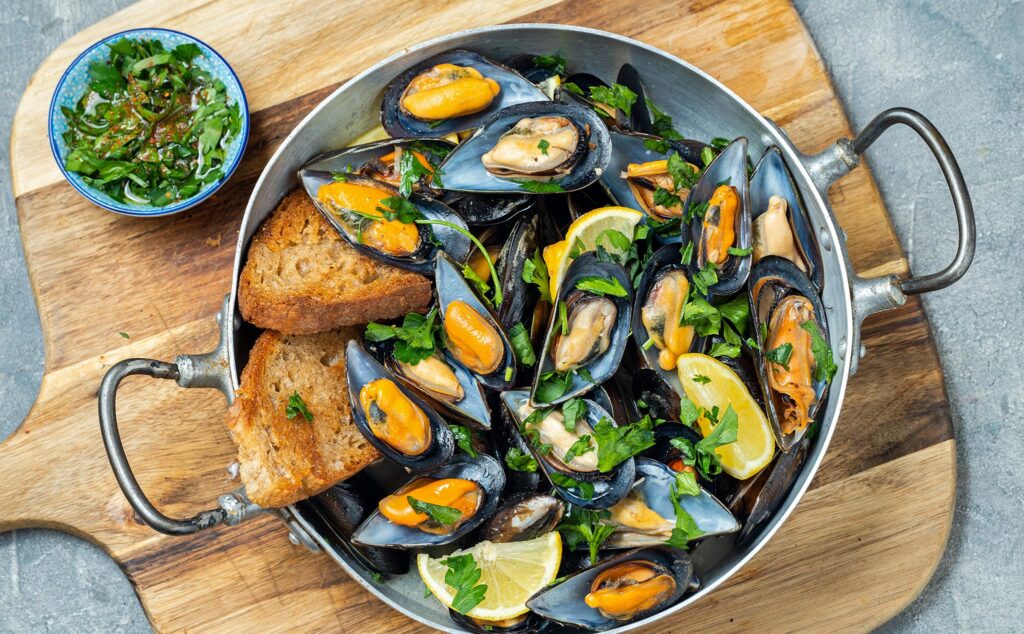 Or venture a different direction when you get to Wilmington and take the Harriet Tubman Underground Railroad Byway down Delaware and onto Maryland's Eastern Shore. The self-guided, scenic driving tour honoring the famed abolitionist and former enslaved person winds 125 miles (201 kilometers) from Cambridge, Maryland, to Philadelphia, and can be taken in reverse. It includes more than 30 sites, most south of Wilmington. Finish the drive at the informational visitor center and memorial garden in Cambridge.
There's as much to do as there is to see while on the road from Myrtle Beach, South Carolina, to a different Wilmington: Wilmington, North Carolina — which is packed with pursuits. On the way there, make a pit stop at Ocean Isle Beach, a small seaside town. Take time to visit the Museum of Coastal Carolina, which includes a planetarium, and stop at Silver Coast Winery (reservations recommended) for a taste of local wines made from grapes picked in the mountain regions of North Carolina, Georgia, and Virginia.
Once you arrive in Wilmington, explore the coastal city's National Register Historic District spanning 230-plus blocks, see azaleas at Airlie Gardens, tour the famous World War II Battleship North Carolina, stroll Carolina Beach Boardwalk, and get wet at Jungle Rapids Family Fun Park.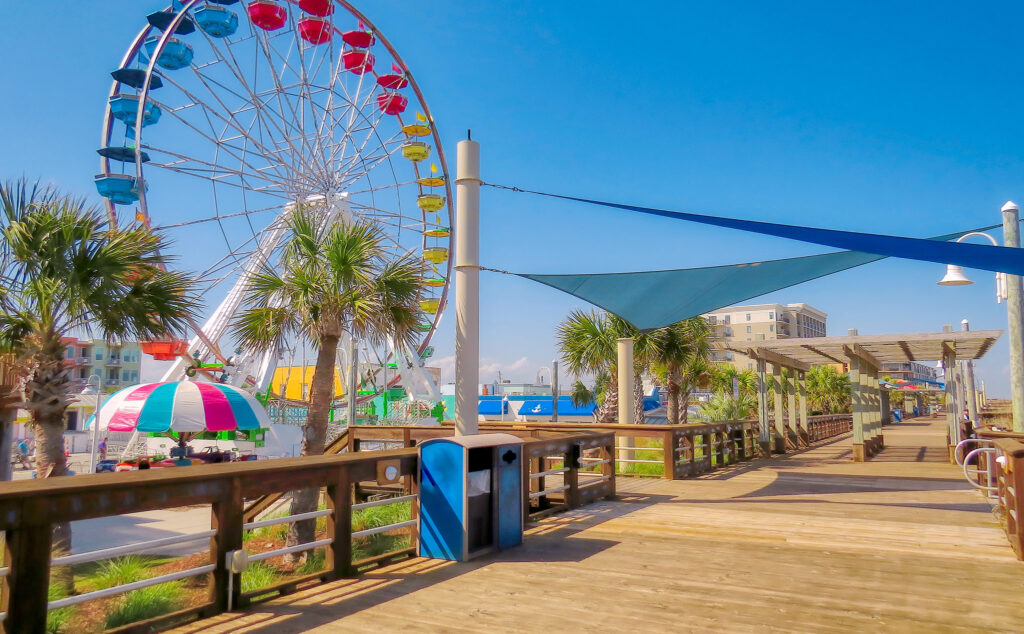 The English Countryside Is Calling
A trip to the Lakes is as much about the mesmerizing Lakeland drives as it is the hiking. And the 23-to-35-mile (37 to 56 kilometers) Keswick Loop (depending on the route you take), via Buttermere and Borrowdale, makes for the perfect daylong road trip — with the added fun of a couple of hiking and obligatory snack stops along the way.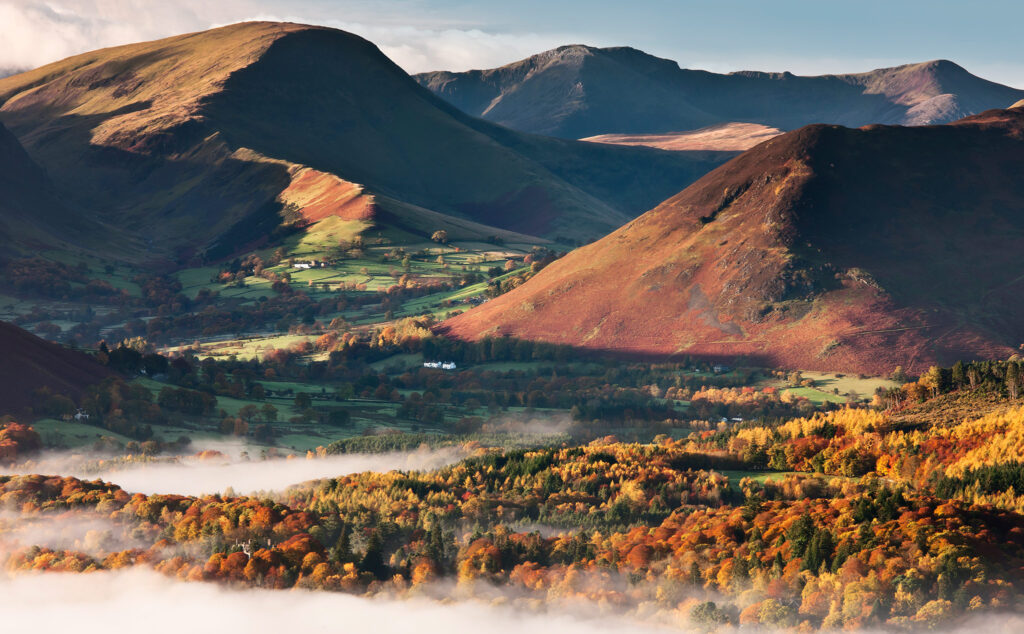 Begin the day in the quaint market town of Keswick and fuel up on the likes of Biscoff and banana stack buttermilk pancakes at Keswick's Lake Road Brunch. Tummy and soul nourished, hit the road and wind along the 3-mile-long (5 kilometers) Newlands Valley from Braithwaite (near Keswick) toward Buttermere.
Enjoy an easy scenic stroll along the 4.5-mile (7 kilometers) footpath that loops around Buttermere Lake. Or, if you'd like more of a challenge, head up the Haystacks hill trail. Of the 214 Wainwright Walks — named after famed British fellwalker, illustrator, and author, Alfred Wainwright — Haystacks, which overlooks Buttermere, was reportedly Wainwright's favorite. And it's no wonder why: a soothing silence permeates this Lakeland landscape, where towering trees reflect against the lake to create kaleidoscopic vistas. Allow roughly two and a half hours to complete this lakeside hike and then reward yourself with a scone and jam and a hot chocolate back at Croft House Farm Café.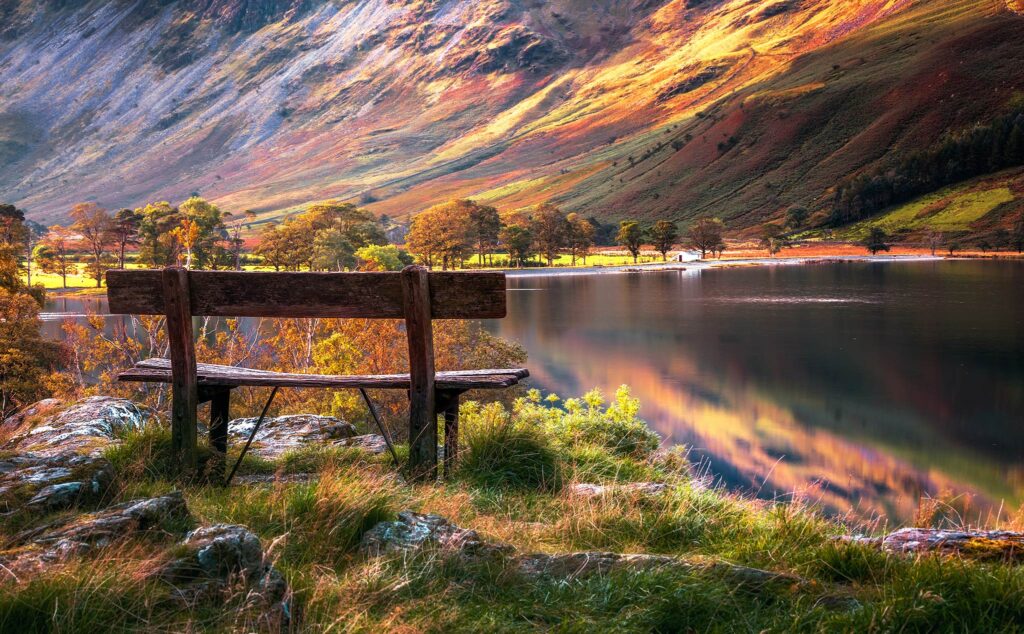 Back in your vehicle, from the southern end of Buttermere, follow the 4-mile (6 kilometer) Honister Pass — prepare to lower the gear for this narrow, steep road — which loops round to the eastern end of Borrowdale Valley. En route stop by the charming village of Seatoller, surrounded by fells and ancient woodland, before looping back to Keswick for a hearty pub dinner at the Pack Horse Inn, alongside a draft beer or cider.
Seaside Beauty Along the Algarve, Portugal
From the mystical Benagil sea cave to a secluded cove, Algarve's beaches warrant full exploration, with an added dose of relaxation in between, of course! The best way to visit as many coastal strands as possible is to cruise along the open high road on a scenic seaside sojourn.
While much of the 73-mile (117 kilometers) route from Faro to Lagos involves navigating inland highways, there are plenty of opportunities for coastal detours and refreshing beach breaks.
Make Praia da Falésia your first stop and enjoy the oceanside bliss. This 4-mile (6 kilometers) coastal expanse stretches from Olhos de Água to Vilamoura and is home to clear ocean water, papaya-colored cliffs, a nature park, and fewer crowds during the low season.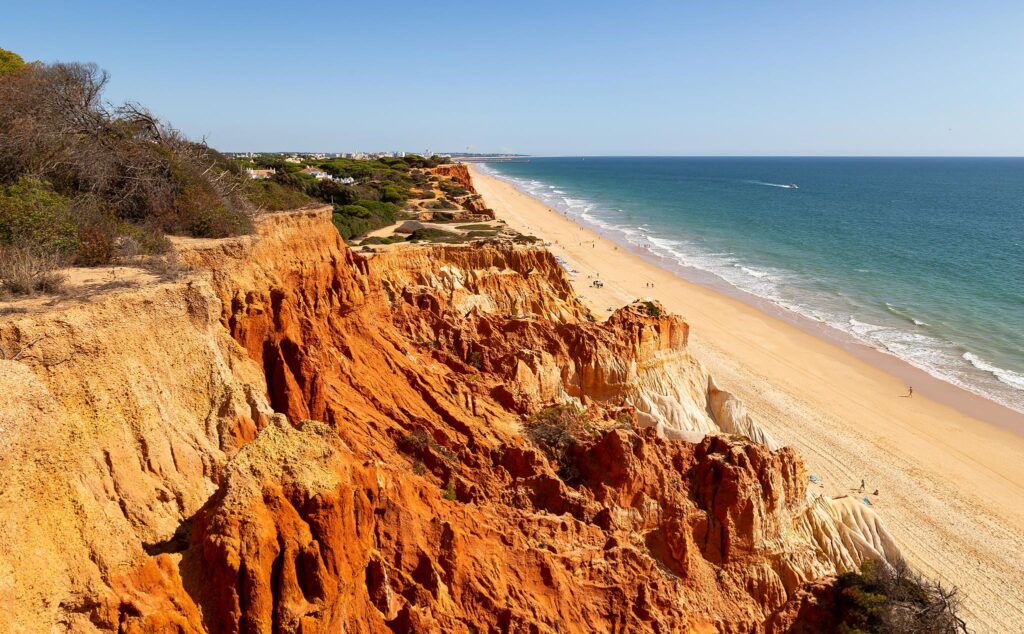 Back on the road, skip the crowded beaches of Albufeira and continue to Praia do Ninho de Andorinha. This hidden cove is a tranquil spot to relax and unwind. It's an unofficial beach without any facilities or lifeguards — but it's truly a lovely hidden gem to visit.
Drive onward to the Benagil Cave. This awe-inspiring beach grotto has a giant hole in its ceiling and two semi-oval-shaped windows that overlook the ocean, allowing natural light to filter through and illuminate the golden sand below. This majestic marvel can be accessed on a boat trip, organized by Taruga Tours, or via kayak or SUPs (stand-up paddleboards).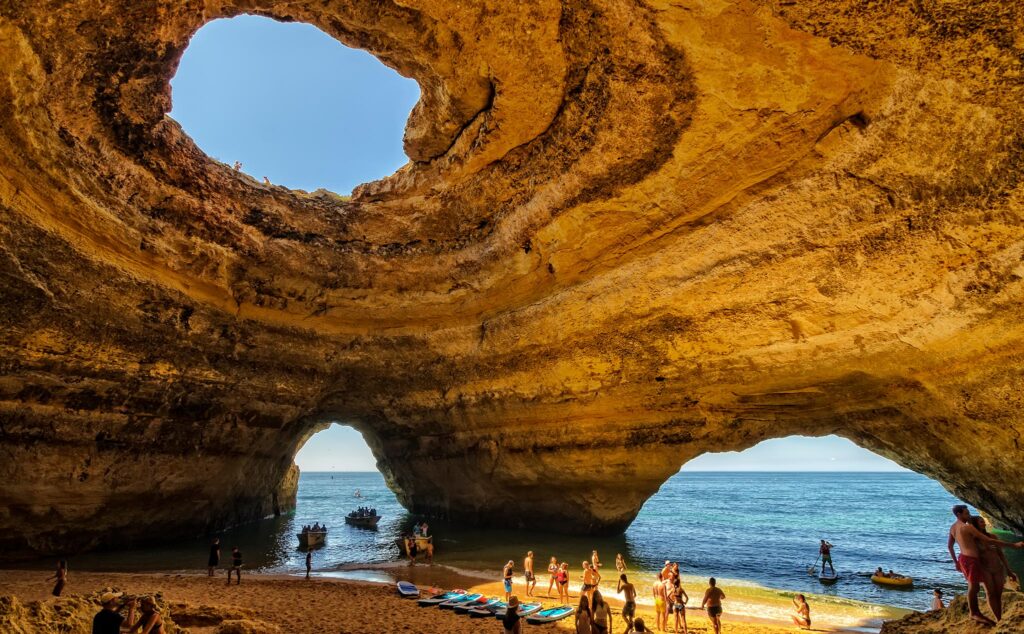 Round off your Portuguese road trip in the port town of Lagos. The Old Town, with its winding cobbled streets and alfresco restaurants, is the perfect place to roam and enjoy a slower pace of life.
Great Sights Near the Great Barrier Reef
Tropical North Queensland's most breathtaking stretch of road has got to be the 87-mile (140 kilometers) Great Barrier Reef Drive. But don't let it be the only route you explore; add these stops to your itinerary to up the Australian adventure.
If you're coming from Cairns, drive an hour and a half southwest to see the most curious-looking egg-laying mammals at Australian Platypus Park at Tarzali Lakes. A playground for platypuses, the site is home to 10 to 15 of the slippery-coated, duck-billed creatures, so chances are good that you'll spot one. Also on park grounds is Smokehouse Café, an eatery offering exotically delicious eats from smoked crocodile sausages to sticky date pudding.
Then, drive an hour inland from Cairns to Mareeba, a rural country town (think the Wild, Wild West, Down Under edition). Head to open-air Mareeba Heritage Museum and feel as if you're walking through history as you pass rusty steel windmills and antiquated saddle and blacksmith shops.
If you're taking the Great Barrier Reef Drive southbound to Palm Cove, allow your first stop to be Cape Tribulation, a biodiverse wonder where the world's oldest rainforest meets the Great Barrier Reef. Located in the unspoiled Daintree Rainforest (about a 2-hour drive from Palm Cove), visitors can choose their own outdoor adventure here: enjoy hiking, mountain biking, dipping in swimming holes, or embarking on guided walking or horseback tours.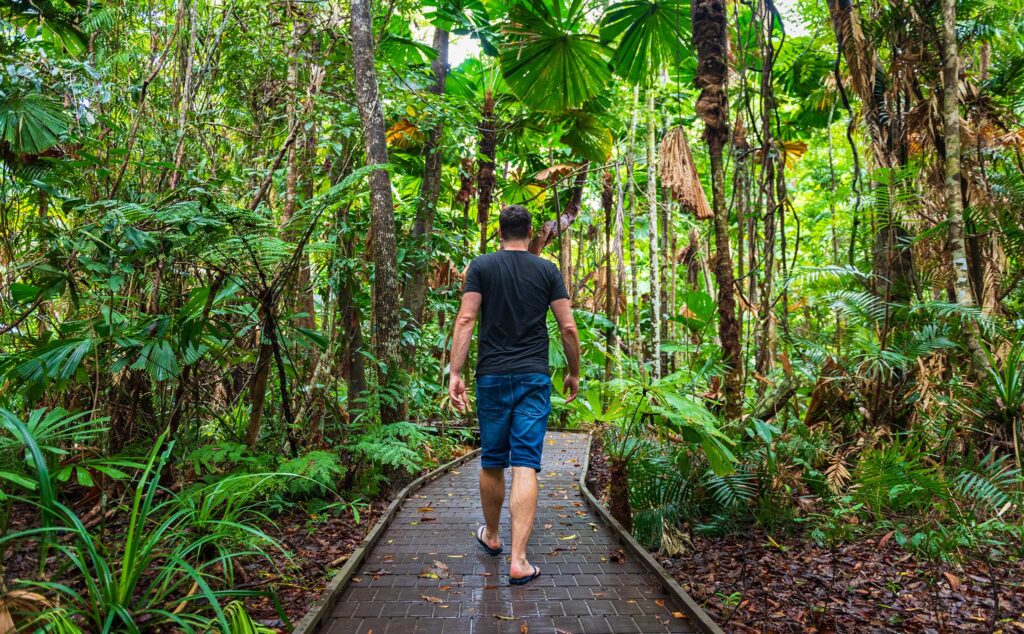 Or head to Port Douglas (40 minutes north from Palm Cove) for some shopping. If it's a Sunday, then Anzac Park's market is the place to be. Here, vendors from all over the state come to sell their handmade goodies — from jewelry and produce to pink-frosted cupcakes. Any other day of the week is ideal for visiting Macrossan Street, a buzzing retail hub of posh boutiques, cafes, galleries, and book and gift shops.